Kids' Playroom Booking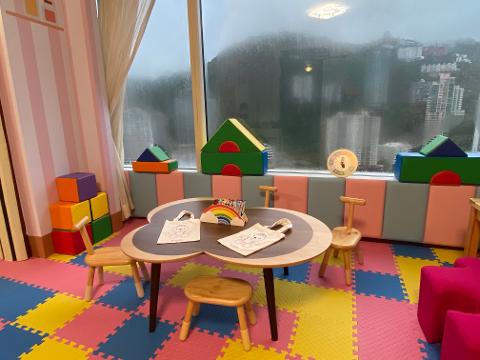 Duration: 45 Minutes (approx.)
The Kids' Playroom is now relocated to Level 53, opens from 30 Sept 2022, during Friday to Sunday and Public Holidays, from 10:00hrs – 14:45hrs. (Reservation is only applicable to in-house guests)

Terms and Conditions
Booking time slot for kids playroom.
To maintain social distancing regulations, we can accommodate a maximum of 3 children in each session.
Children must be accompanied by a parent or guardian at all times. Older siblings/friends are not considered guardians unless aged 18 years or older.
Parent or guardian must sign in at the Kids' Playroom Reception prior to entering. All visitors are required to remove their shoes and wear socks before entering.

Parents and guardians are responsible for the behavior and well-being of their children in their care and must maintain supervision at all times.

Parents and guardians must prohibit their children who are unwell or exhibiting cold or flu-like symptoms or any other contagious condition(s) from entering the Kids' Playroom.

All visitors must sanitize their hands before entering.

All visitors must always wear masks in the Kids' Playroom
No chewing gum, food or drink is allowed in the Kids' Playroom

No running, jumping, pushing, fighting, rough play, yelling, screaming, foul language or offensive behavior permitted. Offenders will be asked to leave the Kids' Playroom immediately.

Guests are reminded not to leave their personal belongings unattended. The Hotel accepts no responsibility for loss or damage to their personal belongings occurring in the Kids' Playroom.

Guests and their children using the Kids' Playroom do so at their own risk. The Hotel shall not be liable under any circumstances for any accidents, injuries, illnesses, death, losses or damages sustained by the guest and/or his/her child(ren) using the Kids' Playroom or in the vicinity of the Kids' Playroom.
The Hotel reserves the right to refuse access to or remove any guest and his/her child(ren) from the Kids' Playroom if these Rules and Regulations are not observed.